''Brilliant stuff, thank you''
GLUE FOR TOY BRICKS + CUSTOMISING YOUR GEAR
Designed and manufacuted in the UK, BLOCK LOCK ® toy glue is designed to improve GRIP between plastic toy bricks so builds can last longer, frustration is reduced and PLAY improved!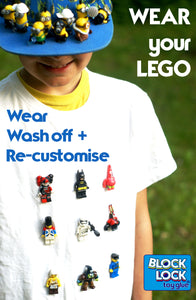 REMOVABLE GLUE FOR BRICKS
BLOCK LOCK is a GLUE for toys like LEGO, MEGABLOKS Nanobricks, Kinex and more. 
-Encourages creative building
-Reduce frustration
-Adds build stability
-Encourages active role-play with sets
-Reduce the chance of lost pieces
-Biodegradable and washable
-CUSTOMISE suitable clothes and accessories with your favourite bricks
-Remove and re-customise your bricks - just wash off the glue with water!
The STARTER KIT has everything you need:
BUY YOUR STARTER KIT HERE
GLUE DESIGNED FOR KIDS
-BLOCK LOCK is a CHILD FRIENDLY glue and can be used by KIDS aged over 5 years
-It's easy for children to use on their own builds, accessories, hobbies or crafts
-BLOCK LOCK comes in 2 sizes 30ml in the KIT or 50ml in the POUCH
-Our glue POUCH can be used on it's own or with the application and removal items in the KIT
BUY YOUR 50ML GLUE POUCH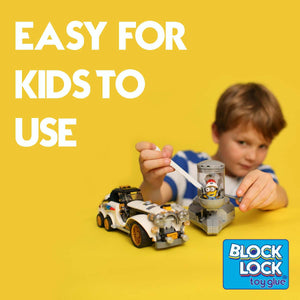 ''5* Easy to use and keeps Lego creations together''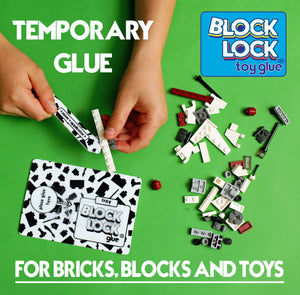 BUILD STRONGER for LONGER
-ADD UP TO 10 X MORE BUILD STRENGTH COMPARED TO THE SAME BUILD WITHOUT GLUE
-BLOCK LOCK is designed to IMPROVE GRIP between building pieces
-It does NOT bond with plastic bricks or change their shape
-Builds can be handled more robustly. 
-Helps children who are still developing their motor skills to enjoy and play with brick sets with less FRUSTRATION
-The glue can be applied directly from the POUCH 
BUY BLOCK LOCK
WASH OFF IN WATER + REBUILD
-BLOCK LOCK TOY GLUE washes off in water. 
-It is BIODEGRADABLE
-Simply submerge your glued item in water and wait!
-Use or SWASH BAG to keep all the pieces together as you remove the glue
-Sets are NICE and CLEAN and SANITISED - bug free!
-Ready to REBUILD!
BUY S-WASH BAG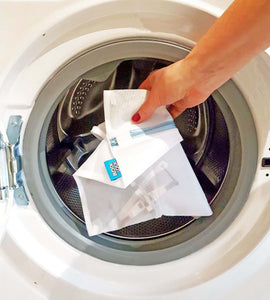 Use BLOCK LOCK Toy Glue on LEGO, Mega Bloks, Nano Bricks, Kinex and more, so you can build bigger and play longer, watch our video!