• britain • business • business network • business uk • enterprise nation • glue • glue for lego • inventing • invention • inventor • lego • lego trail • new product • toy • toy shop • uk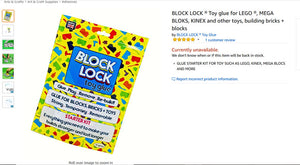 If you are wondering what we do, we are based in the United Kingdom and have invented a CLEAR, TEMPORARY, easy to use GLUE for kids to use on their LEGO, KINEX, Nano Blocks Mega Blocs and construction toys. 
Kragle??? NO, it WASHES OFF when you are ready!